The Mission:
The mission statement of Complete Chiropractic Center is: Apply Health to Your Life.  It is our belief at Complete Chiropractic Center that based on Luke 9:2 that "He sent them to proclaim the kingdom of God and to heal the sick."  It is the vision of Complete Chiropractic Center to help people achieve a wellness lifestyle by applying healthy practices to their life.  It is also the mission of Complete Chiropractic Center to do business in a manner that is honorable and pleasing to God.
Dr. A.J. Wilson, DC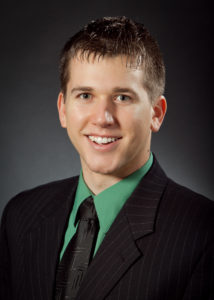 I would like to thank you for visiting our site for Complete Chiropractic Center.  I was born and raised in Pueblo West, CO.  I grew up in church and developed a relationship with Jesus Christ.  I attended Pueblo West High School(GO CYCLONES!) and graduated with honors in 2006.  While in high school, I played varsity golf as well as developed a strong work ethic that was instilled within me by my father.  While attending CSU-Pueblo, I decided to become a chiropractor.  In the fall of 2008 I moved to Dallas, TX to finish my undergraduate work and start the chiropractic doctorate program from Parker University.  I started the Chiropractic program in January of 2009, and from there my passion for chiropractic grew.  In May of 2010 I married my best friend, Terren, and since then we have blessed with 2 wonderful boys.  While in chiropractic school, I excelled in my classes and was even a student aid in the gross anatomy lab and neauroanatomy lab so that I could help others and learn the material I had been so intrigued by.  I desired to help others learn about the human body and I enjoy being able to educate patients about how their body works.  In December of 2011, I graduated Magna Cum Laude with my Doctorate in Chiropractic and ranked third in my class.  I also was able to obtain a Bachelor degree in Health and Wellness as well as a Bachelor degree in Anatomy.  I am currently continuing in my passion in getting my Diplomate in Functional Neurology and eventually a Master's degree in Neuroscience.  I am also currently working on obtaining my Fellowship from the International Academy of Medical Acupuncture.
Jenna Klipfel, Massage Therapist
I was born and raised in Pueblo, and I am the eldest of 3 children. I graduated from Centennial High School in 1999. Shortly thereafter I married my husband Charles. We have 2 children, a daughter and a son.  In 2014 I decided to pursue a career that had been a long time dream of mine. I enrolled to become a Massage Therapist. As I progressed through my education, my passion continued to grow. The more I learned, the more intrigued I became by the human body. In 2015, I earned my certificate in Massage Therapy. In 2016, I graduated with an Associate's Degree in Applied Science for Massage Therapy from Pueblo Community College.  2017 opened up many new opportunities for me. I began to study and later teach Hatha Yoga. This was not only for my personal physical benefit, but also to pass on these benefits to others. In January 2018, I earned my certificate for Lymphatic Drainage and I am currently pursuing a Lymphatic Therapist certification. Healing has been in my heart since I was a young child. Helping with my elderly great grandfather, and later with my grandfather, by rubbing their necks, feet and hands began as a passion I was too young to understand. My fascination for the body and how it works will continue to grow, as will the knowledge and skills that I possess.